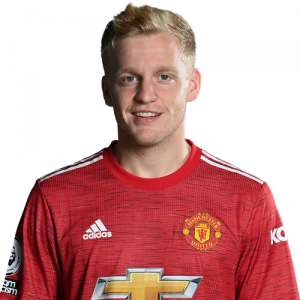 Donny van de Beek is a Dutch professional footballer who plays as a midfielder for EPL club Manchester United and Netherlands national team.
Born in Nijkerkerveen, Van de Beek joined the Ajax academy in 2008. In 2015, he left his competitive debut for the club in a Europa League match against Scottish club Celtic. From the 2016-17 season, Ajax developed to the UEFA Europa League Final, but dropped to Manchester United. Throughout the 2017-18 season, Van de Beek set himself as being a vital play in Ajax's starting eleven. Adhering to the 2018-19 season, in which Ajax reached the semi-finals of their UEFA Champions League, Van de Beek was listed on the list of 30-man shortlist for its Ballon d'Or. With Ajax, he even won the Eredivisie title, KNVB Cup and Johan Cruyff Shield.
In international football, Van de Beek has represented the Netherlands at the youth level. On 14 November 2017, he left his senior global debut against Romania. Back in 2019, he was part of this group that reached that the first ever UEFA Nations League Final, but lost to Portugal.