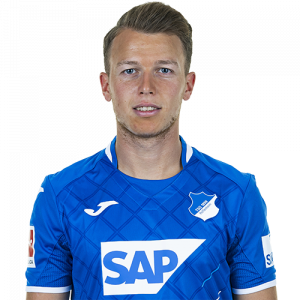 Dennis Geiger (born 10 June 1998) is a German footballer who plays as a midfielder for 1899 Hoffenheim.
In 2009 Geiger moved from SV Alemannia Sattelbach to the TSG 1899 Hoffenheim youth training center. For his second team, he played 25 times in the Regionalliga Südwest in the 2016/17 season and scored five goals. Geiger made his competitive debut for the first team on August 12, 2017 in a 1-0 win in the DFB Cup against FC Rot-Weiß Erfurt. On August 19, 2017, he played in the Bundesliga for the first time in the 1-0 home win against Werder Bremen. Geiger scored his first Bundesliga goal on September 23, 2017 in a 2-0 home win against FC Schalke 04. Whenever Geiger was able to play his way back into the team, he was thrown back by injuries. In the meantime he has played in 3 Bundesliga teams and over 50 Bundesliga appearances.
His contract in Hoffenheim runs until 2022.