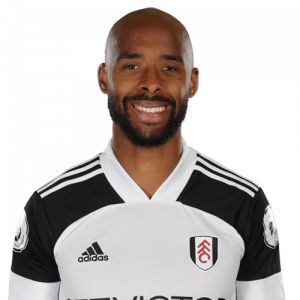 Denis Frimpong Odoi (born 27 May 1988) is a Belgian professional footballer who plays for Premier League club Fulham.
Odoi is a right-footed full-back who can operate on either side. He mainly played at left-back for the past 3 years for his former club, Lokeren. He prefers playing centre back.
On 14 July 2016, it was announced that Odoi had signed for then-English Championship side Fulham for an undisclosed fee, signing a three-year contract with an option of a further 12 months. Upon joining the club, he was given a number four shirt for the side.
On 5 August 2016, Odoi made his debut for Fulham in a 1–0 win against Newcastle United – his debut drawing acclaim for his "outrageous display of skill" controlling the ball off of his back shoulder. Since making his debut for the club, he established himself in the first team, playing in the right–back position for the first two months to the 2016–17 season. Odoi then set up the equalising goal for Tom Cairney, in a 1–1 draw against Nottingham Forest on 27 September 2016. After being dropped to the substitute bench for two matches, he returned to the first team, coming on as a 76th minute substitute, in a 1–1 draw against Sheffield Wednesday on 19 November 2016. Odoi then found himself in and out of the starting line–up, as he competed with Ryan Fredericks over the right–back position. Odoi then scored his first goal for Fulham in a 3–2 win against Wigan Athletic on 11 February 2017. His second goal for the club came on 18 March 2017, in a 3–1 loss against Wolverhampton Wanderers. However, he suffered an injury that saw him missed five matches. It wasn't until on 22 April 2017 when Odoi returned to the first team, coming on as a second half substitute, in a 4–1 win against Huddersfield Town. At the end of the 2016–17 season, he went on to make thirty–two appearances and scored twice in all competitions.