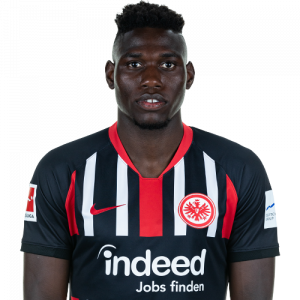 Danny Vieira da Costa (born 13 July 1993) is a German professional footballer who plays as a right back in the Bundesliga for Mainz 05 on loan from Eintracht Frankfurt.
Early career
With his club having already advanced to the knockout stage of the Europa League, the 17-year-old da Costa made his Leverkusen debut as a second-half substitute against Atlético Madrid, coming on for Gonzalo Castro.
FC Ingolstadt
In the offseason, da Costa secured a move to 2. Bundesliga side FC Ingolstadt, initially on a two-year loan. da Costa made his club debut on 3 August 2012 against Energie Cottbus, and started the first two games of the season at right-back before being supplanted by Andreas Görlitz. da Costa made his return on match day 7, coming on as a substitute against 1860 Munich. This led to a run of 13 consecutive starts for Ingolstadt, and da Costa finished the season having started 26 of their 34 games with his club finishing in the middle of the table. da Costa also made 26 starts in the 2013–14 season.
Return to Leverkusen
On 2 May 2016, da Costa officially returned to former club Bayer Leverkusen, with the move becoming effective 1 July. da Costa was in and out of the squad during his lone season back with Leverkusen, making just three appearances in the Bundesliga. His lone start came against former club Ingolstadt, but he was substituted off at the half in favor of Wendell.
Eintracht Frankfurt
At the end of the 2016-17 season, da Costa signed for Eintracht Frankfurt. da Costa sustained an injury in training prior to the fourth match day, a partial tendon tear which caused him to miss around three months of the season.
Loan to Mainz 05
On 22 January 2021, da Costa moved to Mainz 05, on a loan until the end of the season.