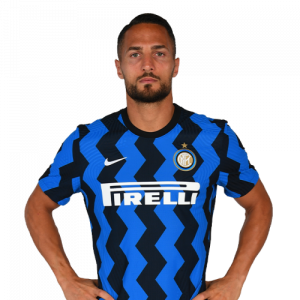 Danilo D'Ambrosio (born 9 September 1988) is an Italian professional footballer who plays as a full back for Inter Milan in the Serie A and the Italy national team.
On 8 January 2014, Tuttosport reported that D'Ambrosio would join Inter in a cash plus player deal. On 28 January, Tuttosport revealed that the fee was €1.75 million cash plus the free loan of Matteo Colombi and 50% of the registration rights of Marco Benassi. (Although the transfer also cost Inter an additional €1.04M on agent and other misc. fee on top of the value of the 50% rights of Benassi (€1M) and cash paid (€1.75M)) Two days later, Inter confirmed the deal.
On 25 September 2018, D'Ambrosio scored his first goal of the season in a league match against Fiorentina following a combination with Mauro Icardi to give Inter the 2–1 win at San Siro, the first home win in league for the 2018–19 season.