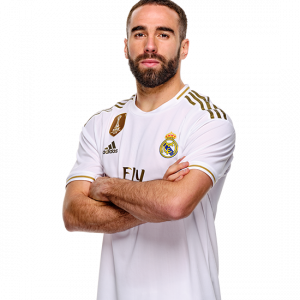 Daniel Carvajal Ramos (born 11 January 1992) is a Spanish professional footballer who plays as a right back for Real Madrid and the Spain national team.
Having risen through the Real Madrid youth ranks, he spent a season with Bayer Leverkusen before returning to Real Madrid. He broke into the first team in 2013, and has subsequently gone on to win 16 major trophies at Real Madrid including four Champions League trophies, two La Liga titles and a Copa del Rey.
At youth international level, Carvajal won the 2011 European Championship with the under-19 team and the 2013 edition with the under-21 side. He made his senior debut in 2014, representing the nation at the 2018 FIFA World Cup.
Real Madrid B
Carvajal was born in Leganés, a suburb of Madrid. He joined Real Madrid's youth system as a 10-year-old, and continued climbing through the ranks until reaching Real Madrid Castilla in 2010.
Bayer Leverkusen
On 11 July 2012, after failing to make a single appearance for Real's first team, Carvajal signed a five-year contract with Germany's Bayer 04 Leverkusen for a transfer fee of €5 million. The Spaniards added on a buy-back clause in the region of €6.5 million if they wanted to re-sign the player after one season, €7 million after two and approximately €8.5 million after three.
Real Madrid
On 3 June 2013, Real Madrid exercised its buy-back option on Carvajal, who became the team's first signing for 2013–14 for a fee believed to be in the region of €6.5 million. This was confirmed by Bayer's director of football Rudi Völler, who stated: "Real Madrid noticed the outstanding performances by Dani this season, and it was only a matter of time before they exercised their buy-back option." Shortly after the move, he spoke of his happiness to return, thanking the president, the fans and the club at a press conference.
Carvajal made his La Liga debut on 18 August 2013, in a 2–1 home win against Real Betis. One month later he played his first match in the UEFA Champions League, again featuring the full 90 minutes in a 6–1 away defeat of Galatasaray SK in the group stage.
Carvajal appeared in 45 matches in his first season and scored twice, in the league against Rayo Vallecano and CA Osasuna. He added 120 minutes in the Champions League final, a 4–1 triumph over Atlético Madrid.