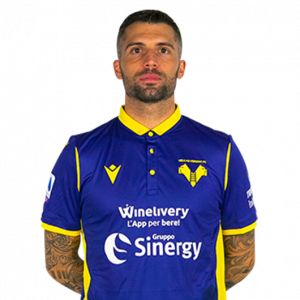 Daniel Sartori Bessa (born 14 January 1993) is an Italian Brazilian footballer who plays as a midfielder for Hellas Verona. He was called up to the Italy national under-18 football team. Bessa qualified for Italian citizenship through his family who have Venetian origins.
Verona
On 12 August 2016, after representing Inter in pre-season, Bessa joined Hellas Verona on a temporary deal, with an obligation to sign him outright. According to Inter and fcinter1908.it, Bessa was sold for €1.2 million transfer fee.
Genoa (loan)
On 31 January 2018, Bessa was signed by Genoa on loan until 30 June 2019.
Playing style
Bessa is a traditional playmaker, whose playing style closely resembles that of a classic number 10; he has been compared to a both Wesley Sneijder and Xavi. Bessa is a technically gifted player and excels at playing behind the strikers. He has a low center of gravity but also has the strength and ability to shield off defenders and protect the ball. Due to his eye for goal, he often alternates between playing as a central attacking midfielder and as a second striker in a 4–4–1–1 formation, a role which is colloquially known as playing "in the hole", and in which he was deployed in the NextGen series. He has also been used in more advanced positions on occasion, as a centre-forward, and his playing style in this role has occasionally been compared with that of Wayne Rooney.
Bessa also has the ability to play in deeper midfield roles, and move up with the play as he dictates it in midfield with his passing, but is also known to be involved more directly in his team's attacking moves. Although he is not known for his speed, his awareness and vision have been highlighted as his best qualities; he has also been noted for his ball control and dribbling skills.