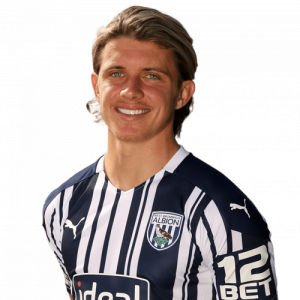 Conor John Gallagher (born 6 February 2000) is an English professional footballer who plays as a midfielder for Premier League club West Bromwich Albion, on loan from Chelsea.
Beginning his career with Chelsea, he has spent loan spells at Charlton Athletic and Swansea City.
Early and personal life
Gallagher was born in Epsom and attended Howard of Effingham School. His older brothers are also footballers who played at non-league level.
Gallagher's family are Chelsea fans, and he lived a 10 minutes drive from their training ground in Cobham.
Club career
After playing for Epsom Eagles, Gallagher joined Chelsea at the age of 8. In October 2018 he signed a new contract with Chelsea until 2021. He had minor heart surgery that year. In May 2019 he was an unused substitute in the 2019 UEFA Europa League Final, winning a winner's medal, and was also awarded Chelsea's Academy Player of the Year for the 2018–19 season.
In August 2019 he signed a new three-year contract with Chelsea and moved on loan to Charlton Athletic. After his first month with Charlton in which he scored 3 goals in 6 games, he won the English Football League's Young Player of the Month award for August 2019.
On 14 January 2020, it was confirmed that Gallagher had been recalled by Chelsea.
On 15 January 2020, Gallagher joined Swansea City on loan for the rest of the 2019–20 season. Gallagher later said that his time at Swansea allowed him to be more creative as a player.
On 17 September 2020, Gallagher signed a new five-year contract with Chelsea, and joined fellow Premier League club West Bromwich Albion on loan for the 2020–21 season. On 28 November 2020, Gallagher scored his first goal for Albion in a 1–0 home league win over Sheffield United.