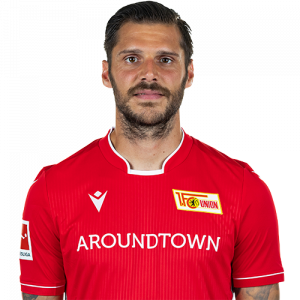 Christopher Trimmel (born 24 February 1987) is an Austrian professional footballer currently playing for Union Berlin.
Club career
Born in Oberpullendorf, Trimmel started his career at local club USC Mannersdorf. He switched to ASK Horitschon, where he played for two seasons until he was discovered by Rapid Wien.
Trimmel signed with Rapid in 2008, and initially played for the amateurs, but quickly managed to receive a place in the first-team squad. On 2 August 2009, in his sixth league game, he scored a hat-trick in only six minutes in a 5–1 victory over Austria Kärnten.
In February 2014, Trimmel signed with Union Berlin for the new season. In May 2017, he extended his contract until 2019.
International career
On 5 August 2009, it was announced that Trimmel was a part of the national team squad for the upcoming friendly match against Cameroon. He has since represented his country seven times, after a nine-year hiatus in 2019 again.