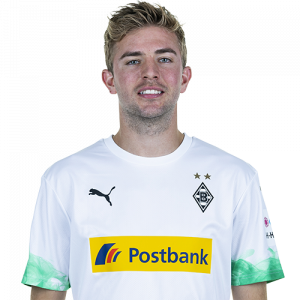 Christoph Kramer (born 19 February 1991) is a German professional footballer who plays as a defensive midfielder for Bundesliga club Borussia Mönchengladbach.
After a season in their reserve team, Kramer was promoted to Bayer Leverkusen's first team in 2011. He then spent two seasons on loan at second-tier VfL Bochum, and a further two at Borussia Mönchengladbach.
Kramer made his full international debut for the Germany national team on 13 May 2014, and later that year was part of the German squad which won the 2014 FIFA World Cup.
Borussia Mönchengladbach (loan)
Following his two-year spell with Bochum in the second division, Kramer joined Borussia Mönchengladbach in July 2013 on a two-year loan deal. He made his Bundesliga debut on 9 August 2013, starting in midfield for Gladbach in a 3–1 loss to defending champions Bayern Munich. He scored his first goal for Gladbach in the following round of fixtures, netting the club's second goal in a 3–0 victory over Hannover 96. Kramer scored Borussia Mönchengladbach's third goal of a 3–1 victory over Mainz 05 on 3 May 2014, securing the club a place in the UEFA Europa League for the following season. In the final league match of the season, Kramer scored his third Bundesliga goal as Gladbach fell to VfL Wolfsburg 3–1, confirming that Gladbach would finish just behind Wolfsburg, in sixth place.
Kramer returned to Gladbach following his exploits in the 2014 FIFA World Cup, making his season debut on 24 August 2014, coming off the bench and scoring his side's last-minute equalizer in a 1−1 draw with VfB Stuttgart. On 9 November, away to Borussia Dortmund, he scored an own goal from inside the centre circle which gave his opponents a 1–0 victory.
On 22 December 2014, Leverkusen announced Kramer would be returning to Leverkusen from his loan spell at Gladbach in summer 2015 as planned and that his contract had been extended by two further years until 30 June 2019.
Borussia Mönchengladbach
On 8 June 2016, Kramer returned to Borussia Mönchengladbach, signing a five-year deal with the club.