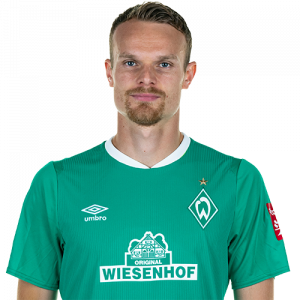 Christian Groß (born 8 February 1989) is a German professional footballer who plays for Werder Bremen as a centre back or defensive midfielder.
Christian Groß lived in his native Bremen until the age of six, then his family moved to Cloppenburg in the Sternbusch district. There he was a member of SC Sternbusch and BV Cloppenburg.
He came to Hamburger SV at the age of 17 through VfL Osnabrück, where he played for a year in the B-Jugend. After two years in the U-19 of the Hanseatic city, he was promoted to the U-23 in the Regionalliga Nord in 2008. After a tendon torn, it took some time to get back into shape, but in the second half of the season he became a regular in the defensive midfield. He then got a professional contract for the following season. He trained with the Bundesliga team and was one of the most important players in the second team. He was appointed to the German U-20 national team, where he made a brief appearance in the friendly against Italy in Hamburg on April 7, 2010. Nevertheless, he was denied a place in the top German league.
The following year was more of a step backwards, there were no further appearances in the junior national team, Groß only made 21 appearances in the U-23 in the 2010/11 season and he was still a long way from the Bundesliga. As a result, he decided to leave Hamburger SV early and joined SV Babelsberg 03. There he had his first appearance in professional football on July 23, 2011 on the first day of the 3rd division.
For the 2014/15 season, Groß moved to third division VfL Osnabrück,  where he had a regular place in defensive midfield from the start and was most recently captain of the team.
For the 2018/19 season he joined the regional division Werder Bremen II. There he was appointed team captain. In the U23 team, an important task for him is also to pass on his experience to the young talents.
At the beginning of the 2019/20 season, he played the preparation with the professional team, who did not have enough of their own defenders due to injuries. After good training and test game performance, Groß was in the starting line-up of the professional team on August 11, 2019 in a 6-1 win against SV Atlas Delmenhorst in the first main round of the DFB Cup. He made his Bundesliga debut on September 1 when he came on as a substitute in the 3-2 win against FC Augsburg. After five defensive players were injured at Werder, he played the next four games over the entire season in the central defender position. Overall, Groß made 14 Bundesliga appearances under Florian Kohfeldt (10 times from the start). He only played once in the regional league team.
Large will remain part of the Bundesliga squad in the 2020/21 season.