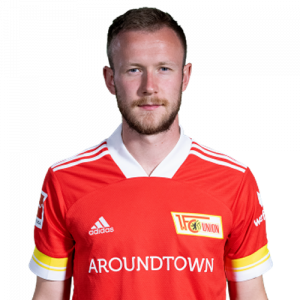 Cedric Teuchert (born 14 January 1997) is a German footballer who plays as a forward for Union Berlin.
Club career
Teuchert made his 2. Bundesliga debut with 1. FC Nürnberg in 2014 as a 17-year-old. In the first half of the 2017–18 season he scored 6 goals and made 2 assists in 15 league matches. In his time at the club, he made a total of 45 appearances, scoring 11 goals and assisting 6 times.
On 3 January 2018, it was announced that Teuchert had joined Bundesliga club FC Schalke 04 from 1. FC Nürnberg for a reported €1 million transfer fee, agreeing a ​3 1⁄2-year contract.
Teuchert joined Union Berlin on 1 August 2020.
International career
Teuchert is a youth international for Germany. In October 2017, he made his debut for the U21 side.