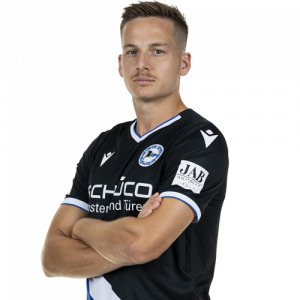 Cédric Brunner (born 17 February 1994) is a Swiss professional footballer who plays for Arminia Bielefeld as a defender.
Brunner started his professional career at FC Zurich, where he had previously worked in several junior departments. In the 2014/15 season Brunner was used a few times in the first team. He also played several games for the U-21s of FC Zurich in the Promotion League.
In the 2015/16 season Brunner became a regular and was used in central defense and as a right full-back. With FC Zurich, Brunner ended the season in last place, which was synonymous with relegation to the Challenge League. After the last league game, Brunner won the Swiss Cup with FC Zurich in the final against FC Lugano.
After FC Zurich had been part of the Challenge League for a year, Brunner was promoted to the Super League again with the club.
On April 26, 2018, Cédric Brunner signed a two-year contract with the German second division Arminia Bielefeld, valid from the 2018/19 season. In the 2019/20 season, Brunner became champions of the 2nd Bundesliga with Arminia Bielefeld and was promoted to the Bundesliga.