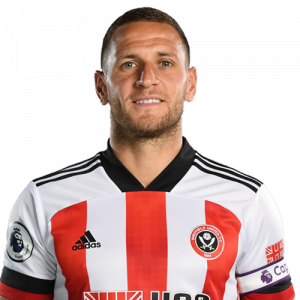 Billy Louis Sharp (born 5 February 1986) is an English professional footballer who plays as a striker for Premier League club Sheffield United.
He has also played for Rushden & Diamonds, Scunthorpe United, Southampton, Nottingham Forest, Reading, Doncaster Rovers and Leeds United. On 1 January 2019, Sharp scored his 220th goal and became the leading English born goalscorer in English professional football during the 21st century so far, overtaking the record set by Rickie Lambert. On 8 February 2019, Sharp scored his 100th goal in all competitions for Sheffield United when he scored his second goal in a 3–3 draw against Aston Villa.
Three days after the death of his newborn son in 2011, Sharp played and scored the opener in that game, and five days later he was applauded by the opposing Ipswich Town fans following his goal against them. He and his wife set up The Luey Jacob Sharp Foundation in aid of gastroschisis research and to support other people affected by this condition.
n 10 August 2019, Sharp marked Sheffield United's return to the Premier League with an 88th-minute equaliser in a 1–1 draw at Bournemouth, his first goal in the English top flight.
On 10 June 2020, Sharp signed a new two year contract keeping him at the club until the summer of 2022.
On 12 January 2021, Sharp scored his 100th league goal for Sheffield United via a penalty in a 1–0 home league win over Newcastle United. This result earned the Blades' their first league victory of the season and their first league win since July 2020.