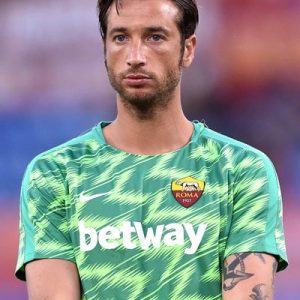 Antonio Mirante (born 8 July 1983) is an Italian footballer who plays for Serie A club Roma as a goalkeeper.
Juventus and loans
After starting his professional career with Juventus, Mirante was loaned to Crotone in 2004, along with Giovanni Bartolucci, Tomas Guzman, Abdoulay Konko, Matteo Paro and Daniele Gastaldello.
Sampdoria
In the first season with Sampdoria, Mirante was an understudy of Luca Castellazzi. Nevertheless, at the end of the loan in June 2008, the club bought half of the registration rights of Mirante from Juventus for €1.5 million transfer fee.
Parma
On 19 July 2009, he went on loan to Parma in exchange for defender Marco Rossi, both on temporary deals.
Bologna
Mirante was signed by Bologna on a free transfer on 3 July 2015. He was the first choice of the team. On 19 July 2016, Mirante signed a new three-year contract. However, at the start of 2016–17 season he was diagnosed with a heart problem and had to undergo testing which ruled him out indefinitely; on 31 August 2016 the club signed Alfred Gomis on loan from Torino as an emergency replacement.
Roma
On 22 June 2018, Mirante joined Roma from Bologna for €4 million transfer fee, signing a three-year contract; on the same day both clubs also announced that goalkeeper Łukasz Skorupski had joined Bologna[16] from Roma for €9 million transfer fee, signing a five-year contract. Mirante visited Rome for a medical on 21 June and was presented with his number 83 shirt on the next day.