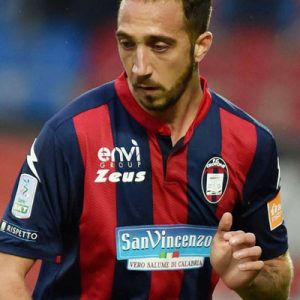 Antonio Mazzotta (born 2 August 1989) is an Italian footballer who plays as a defender for Seiar A side Crotone.
Mazzotta started his career at Eccellenza Sicily amateurs Kamarat, then joining hometown club Palermo in 2006. In August 2009, he was loaned to Lecce who had recently relegated to Serie B. Mazzotta made his debut 6 days later in a 2–6 loss to Sampdoria at Coppa Italia. After winning the 2009–10 Serie B title and therefore ensuring a place in the 2010–11 Serie A, Lecce used its option to buy half of Mazzotta's transfer rights from Palermo and sent the player out on loan to Serie B club Pescara.
In January 2011 he left Pescara due to lack of first team opportunities in order to join fellow Serie B club Crotone, again on loan from Lecce and Palermo. The loan is extended for another year. On 22 June 2012, Lecce announced from their website to have acquired the full transfer rights of Mazzotta.
He successively moved back to hometown club Palermo for the 2018–19 Serie B campaign.
Following Palermo's exclusion from the Serie B, he was released together with all other players in July 2019.
On 19 August 2019, he returned to Crotone on a one-year deal.