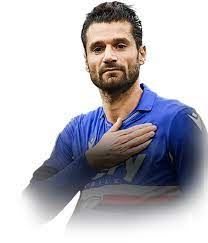 Antonio Candreva (born 28 February 1987) is an Italian professional footballer who plays as a right midfielder or right winger for Sampdoria, on loan from Inter Milan, and the Italy national team.
Candreva began his professional club career with Ternana in 2004, where he remained until 2007. He later moved to Udinese, remaining until 2012, but was sent on loan to Livorno, Juventus, Parma, and Cesena during his time with the club. He subsequently transferred to Lazio, where he won the Coppa Italia in his first season with the team. He joined Inter in 2016. At international level he has represented Italy at the 2008 Summer Olympics, at the 2013 FIFA Confederations Cup (winning a bronze medal in the tournament), at the 2014 FIFA World Cup, and at UEFA Euro 2016.
Ternana
Candreva started playing for the youth teams at local club Lodigiani, then transferred to Serie C1 team Ternana in 2003 and played several games for the first team when they were promoted to Serie B for the 2004–05 season.
Udinese
In June 2007, Candreva was then signed by Serie A club Udinese and played for their Primavera (U-20) team as an overage player.
Loans to Livorno
The 21-year-old was successively loaned out to Serie B outfit Livorno for the 2008–09 season.
Loans to Juventus
On 20 January 2010, it was confirmed Serie A giants Juventus had signed Candreva on loan for the rest of the season, for €500,000, with Juventus having an option to buy half of his contract from Udinese at the end of the season.
Loan to Parma
On 31 August 2010, Candreva signed for Serie A side Parma on a one-year loan deal, for €500,000. Parma had the option to purchase Candreva in a co-ownership deal, but declined to do so.
Loan to Cesena
On 21 July 2011, Candreva signed for Serie A side Cesena on an initial one-year loan deal. It cost Cesena €300,000.
Lazio
On the last day of the January 2012 transfer window, he moved to Lazio on a free loan deal, in return Simone Del Nero from Lazio went for a free loan to Cesena. On 7 April 2012, Candreva scored his first goal for Lazio against Napoli in the 2011–12 season, in a 3–1 home victory.
Inter Milan
On 3 August 2016, Candreva joined Inter Milan on a four-year deal for a €22 million fee plus reported bonuses. On 13 August, Candreva made his unofficial debut for the club in an International Champions Cup preseason match against Celtic; he came on the pitch in the 60th minute, and scored his first goal with the club ten minutes later in a 2–0 win.
Sampdoria
On 25 September 2020 Candreva moved to Sampdoria on loan with an obligation to make the deal permanent.