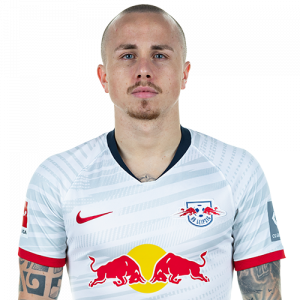 José Ángel Esmorís Tasende (born 4 January 1997), known by the diminutive Angeliño, is a Spanish professional footballer who plays as a left back or left midfielder for Bundesliga club RB Leipzig.
2019–2021: Loans to RB Leipzig
On 31 January 2020, having made 12 appearances for Manchester City, Angeliño was loaned to German Bundesliga club RB Leipzig until the end of the season. He made 13 league appearances, scoring once and assisting three times. On 13 August, Angeliño provided the assist for the late winning goal in a 2–1 victory against Atletico Madrid in the Champions League quarter-final, helping the club reach their first ever Champions League semi-final.
On 8 September 2020, Manchester City announced that Angeliño's loan to RB Leipzig would be extended for the duration of the 2020–21 campaign. On 20 October 2020, Angeliño scored a brace in a 2–0 win over İstanbul Başakşehir in the 2020–21 UEFA Champions League. In the final group stage match on 8 December, Angeliño scored his side's first goal in a 3–2 win over his parent club's bitter rivals Manchester United to knock them out of the competition.
RB Leipzig
On 12 February 2021, Angeliño's loan to RB Leipzig was made permanent after he signed a four-year contract with the German club, for an undisclosed fee.