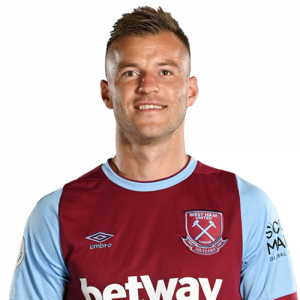 Andriy Mykolayovych Yarmolenko (born 23 October 1989) is a Ukrainian professional footballer who plays as a winger or forward for English Premier League club West Ham United and the Ukraine national team.
Yarmolenko has been a full international for Ukraine since 2009, scoring 38 goals in 88 matches and playing at UEFA Euro 2012 and Euro 2016.
Yarmolenko's parents, native Ukrainians, were originally from Smolianka village, Kulykivka Raion, Chernihiv Oblast. After their marriage, Valentyna and Mykola Yarmolenko moved to Leningrad (currently Saint Petersburg) where Andriy was born in 1989. In three years time (after the collapse of the Soviet Union), the family moved back to their native land and settled in the city of Chernihiv.
His mother recollected that Andriy began to play with the ball from the age of 4-5 years. "In the beginning he did not even have a proper ball, so had to play with a self-made one. We were poor and real football was a luxury in those times". Yarmolenko was noticed by Mykola Lypoviy who invited him to football school (Youth Sports School "Yunist" in Chernihiv) and became his first coach.
On 11 July 2018, Yarmolenko signed for Premier League club West Ham United on a four-year contract for an undisclosed fee. He made his debut on 12 August in a 4–0 defeat by Liverpool. Making his first start for West Ham on 16 September, he scored his first two goals for the club in a 3–1 away win against Everton, the club's first Premier League win of the 2018–19 season. Yarmolenko suffered an Achilles tear on 20 October 2018 in a 1–0 loss against Tottenham Hotspur, which ruled him out for the remainder of the season.
Yarmolenko returned to the first team squad for the start of the 2019–20 season. On 31 August 2019, he scored his first goal since his return from injury, doubling West Ham's lead with a left-footed volley in a 2–0 win over Norwich City. He netted again in West Ham's next home match in the Premier League, opening the scoring in their 2–0 defeat of Manchester United. In December 2019 he tore his adductor muscle and had still not returned to playing when football was suspended due to the COVID-19 pandemic in March 2020. He returned to training in May 2020 and on 1 July 2020, in his second appearance since 2019, he scored the winning goal against Chelsea in a 3–2 win.