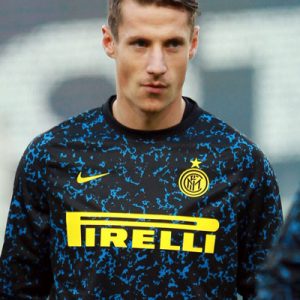 Andrea Pinamonti (born 19 May 1999) is an Italian professional footballer who plays as a striker for Serie A club Inter Milan.
Inter Milan
Pinamonti made his senior debut for Inter Milan on 8 December 2016, aged 17, against Sparta Prague in the last match of 2016–17 UEFA Europa League group stage. Pinamonti was selected as a starter by coach Stefano Pioli and delivered a well-received performance, helping Inter to finish their European campaign with a 2–1 win. On 12 February 2017, Pinamonti made his first appearance in Serie A, with Inter winning the match 2–0 against Empoli at San Siro. Pinamonti latter dubbed his debut as "indescribable". In the 2016–17 season Pinamonti also won the Primavera title with the U19 youth team.
In the 2017–18 season, Pinamonti became a member of the first team but continued to play with Internzionale's U19 team in the UEFA Youth League. He made his season's first appearance on 12 December 2017, playing as a starter in the Coppa Italia match against Serie C club Pordenone.
Frosinone (loan)
On 17 August 2018, Pinamonti joined Serie A club Frosinone on loan until 30 June 2019. He scored his first goal in Serie A with Frosinone on 28 October in the match versus S.P.A.L..
Genoa
On 30 June 2019, Pinamonti joined Genoa on loan with an obligation to buy. On 18 September 2020, his contract was bought back by Inter Milan.