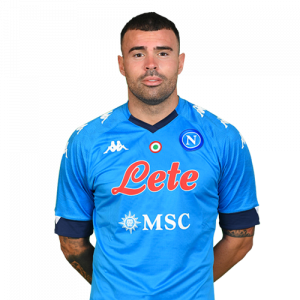 Andrea Petagna (born 30 June 1995) is an Italian professional footballer who plays as a striker for Serie A club Napoli.
Milan and loans
Petagna started his football career in A.C. Milan's youth system, where he was a member of the under-15 squad who won the Campionato Nazionale Giovanissimi in 2010 and a member of the under-17 squad who won the Campionato Nazionale Allievi the following year. He made his professional debut on 4 December 2012, coming on as a substitute in the late stages of a UEFA Champions League group stage home game against Zenit St. Petersburg, which Milan lost 0–1.
Atalanta and Ascoli loan
On 25 January 2016, Petagna signed for Atalanta and was loaned to former club Ascoli until 30 June 2016.
SPAL
On 19 July 2018, Petagna signed for SPAL on loan until 30 June 2019 with an obligation to buy. He scored his first goal with S.P.A.L. in his debut match on 12 August, scoring the final 1-0 goal in the Coppa Italia third round match against Spezia He scored his first Serie A goals with the Emilian side on 17 September, scoring a double that allowed the Biancazzurri to beat his former side Atalanta 2-0. He made 37 appearances scoring 17 goals in all competitions, On 1 July 2019, Petagna was signed on a permanent deal by SPAL.
Napoli
On 30 January 2020, Petagna signed with Napoli. He stayed at SPAL on loan until the end of 2019–20 season.