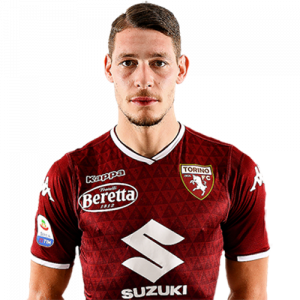 Andrea Belotti (born 20 December 1993) is an Italian professional footballer who plays as a striker for Serie A club Torino, for which he is captain, and the Italy national team.
Nicknamed Il Gallo (The Rooster), Belotti started his career with Albinoleffe. He was later signed by Palermo, where he won a Serie B title in the 2013–14 season, before being signed by Torino in 2015. He currently ranks as Torino's eighth highest goalscorer of all time.
He is a former Italy under-19, under-20 and under-21 international, and took part in the UEFA European Under-21 Championship in 2015. He was given his senior national team debut in 2016.
On 18 August 2015, he was officially signed by Torino for a reported fee of €7.5 million. He scored his first goal for Torino in a 2–0 win against Bologna. On 16 January 2016, he scored his first brace for the club in a 4–2 win over Frosinone. On 20 March, he scored from the penalty spot in the 48th minute to halt Juventus goalkeeper Gianluigi Buffon's record of longest consecutive minutes not conceded in a 4–1 home defeat. He concluded the 2015–16 season with 12 goals in 35 appearances.
He began the 2016–17 season scoring a header against Milan at the San Siro, but had a penalty saved by Gianluigi Donnarumma in a 3–2 defeat. The following round, on 28 August, he scored his first career hat-trick in a 5–1 home win against Bologna. On 4 December, he extended his contract with Torino until 2021, with a €100 million release clause valid only to foreign clubs. On 5 March 2017, he wore the captain's armband for the first time against Palermo, in which he scored the fastest hat-trick in Serie A since 30 January 2000 (seven minutes and 15 seconds), surpassing the previous record belonging to the Ukrainian Andriy Shevchenko. The following month, he became the first player under the age of 24 to score 24 goals in a single Serie A season since Shevchenko in 1999–00. He ended the season with 26 goals in 35 appearances, and as the third top-scorer in the league behind Edin Džeko of Roma (29) and Dries Mertens of Napoli (28).
After being appointed team captain on a permanent basis, he scored his first goal of the 2017–18 season with a scissor-kick in a 3–0 win against Sassuolo. Often injured, he was unable to repeat his performance of the previous season, scoring 10 goals in Serie A.
On 26 August 2018, Belotti scored his first goal of the 2018–19 season in a 2–2 draw against Inter Milan at the San Siro. On 4 November, he scored his first brace of the season in a 4–1 away win against Sampdoria. On 25 May, he scores the second scissor kick goal of his career, once again against Sassuolo. In virtue of his performance during the season, he was voted as Torino's player of the year (succeeding Nicolas Nkoulou). Belotti concluded the season with 15 goals in Serie A – contributing to Torino's qualification to the 2019–20 UEFA Europa League, after the exclusion of Milan.
On 25 July 2019, Belotti made his debut in UEFA competitions, in the first qualifying round of the Europa League against Debrecen, scoring the opening goal on a penalty kick. On 29 August, Belotti scored with a header against Wolverhampton to record his 77th goal for Torino, entering in Torino's top 10 goalscorers of all-time. On 26 September, he scored his first brace of the season in a 2–1 win over Milan.
On 16 July 2020, Belotti scored in his seventh Serie A match in a row in a 3–0 win over Genoa.