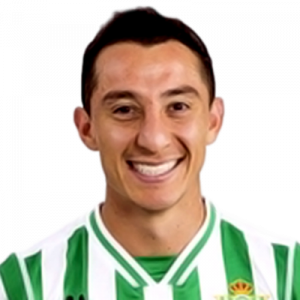 José Andrés Guardado Hernández (born 28 September 1986) is a Mexican professional footballer who plays for La Liga club Real Betis and captains the Mexico national team.
Mainly a midfielder, he can also operate as a left winger and left-back.
Popularly known as Principito (Spanish for Little Prince), he came through the youth ranks at Atlas, then signed with Spain's Deportivo, where he spent five seasons. In 2012 he joined another team in the country, Valencia, with brief loan stints at Bayer Leverkusen and PSV, before permanently joining the latter club in 2015 and winning two Eredivisie titles. He returned to Spain two years later with Real Betis, where he has since gone on to make over 100 appearances.
A Mexican international since 2005, Guardado represented the country in four World Cups, four Gold Cups – winning the 2011, 2015 and 2019 tournaments – two Copa Américas and two Confederations Cups, winning over 160 caps.
Betis
Despite rumors linking him to a possible move to Atlanta United and Los Angeles FC of the Major League Soccer, it was announced on 27 July 2017 that Spanish club Real Betis had signed Guardado for a reported €2.3 million on a three-year deal. The following month he was named their co-captain, and on 20 August he made his competitive debut, playing all 90 minutes in a 2–0 loss to Barcelona. He scored his first goal on 25 November, in a 2–2 home draw against Girona FC.
In December 2019, the 33-year-old Guardado renewed his contract until 2022. On 4 July 2020 he made his 100th official appearance for the Andalusians, captaining the side in their 1–1 league draw to RC Celta de Vigo and becoming the first Mexican to reach that mark for three different European clubs in the process. On 11 July, he picked up a hamstring injury in a 1–0 league loss to Atlético Madrid, causing him to miss the rest of the season.
Following an absence as a result of the hamstring injury, Guardado played his first match of the 2020–21 season against Valencia on 3 October, coming on as a stoppage time substitute in a 2–0 away league victory, marking it as his 14th season in Europe and becoming the Mexican with most seasons in Europe, surpassing Hugo Sánchez's record of 13. On 17 January 2021, after recovering for nearly two weeks from COVID-19, Guardado returned to the field, coming on as a second-half substitute in the Copa del Rey round of 32 match against Sporting de Gijón, winning 2–0.