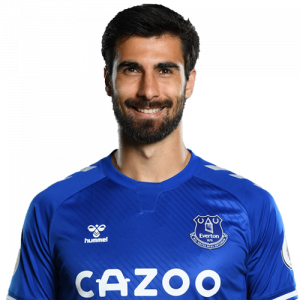 André Filipe Tavares Gomes (born 30 July 1993) is a Portuguese professional footballer who plays as a central midfielder for Premier League club Everton and the Portugal national team.
He played three years at Benfica, where he won the domestic treble in the 2013–14 season. In July 2014 he joined Valencia and, two years later, signed with Barcelona also in the Spanish La Liga. Following a year on loan at Everton, he agreed to a permanent contract in 2019.
Gomes earned 37 caps for Portugal all youth levels accounted for, including six for the under-21s. He represented the nation at Euro 2016 – winning the tournament – and the 2017 Confederations Cup.
On 9 August 2018, and even though he was nursing a leg injury sustained during pre-season,[28] Gomes moved to English club Everton on a season-long loan for €2.25 million. He made his Premier League debut on 21 October, playing 82 minutes in a 2–0 home win over Crystal Palace. He scored his first goal for the team on 2 February 2019, in a 1–3 home defeat to Wolverhampton Wanderers.
Gomes was a regular for the Toffees during his spell, but on 16 April 2019 he received a three-match ban for standing on the leg of Fulham's Aleksandar Mitrović during the 2–0 defeat at Craven Cottage. He signed a permanent five-year contract on 25 June, for a £22 million transfer fee.
On 3 November 2019, Gomes sustained a serious ankle injury in a Premier League home game against Tottenham Hotspur after a tackle by Son Heung-min and subsequent collision with Serge Aurier. Referee Martin Atkinson was going to give Son a yellow card initially, but changed it to red after realising the severity of the situation; the red card was later overturned by The Football Association, while Gomes was expected to make a full recovery after successful surgery.
On 23 February 2020, Gomes completed his return from injury in the second half of Everton's 3–2 away loss against Arsenal.