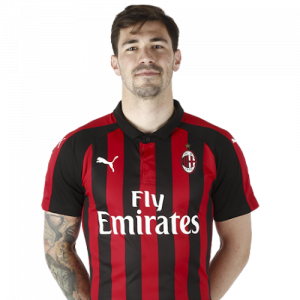 Alessio Romagnoli (born 12 January 1995) is an Italian professional footballer who plays as a centre back for Serie A club Milan, where he is club captain, and the Italian national team.
Though he grew up supporting Lazio (a club he's still a fan of today), he began his career with Roma in 2012, and later spent a season on loan with Sampdoria in 2014, before moving to Milan in 2015. At the start of the 2018–19 Serie A season, he was named the team's captain following Leonardo Bonucci's return to Juventus.
Romagnoli was the only player on the team to have been featured in every game of the season for its entirety before a muscle injury on 21 July 2020 in a home game against Sassuolo. Having his captain's armband handed in to Gianluigi Donnarumma, he was substituted for Matteo Gabbia after 32 minutes and missed the last three games of the season. He finished the season with 39 games in total and one goal.