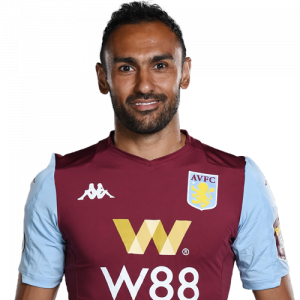 Ahmed Eissa Elmohamady Abdel Fattah (born 9 September 1987) is an Egyptian professional footballer who plays as a right back for Premier League club Aston Villa and is the captain of the Egypt national team.
Elmohamady moved to Premier League club Sunderland in 2010, initially on loan from Egyptian side ENPPI. He went on to make over 200 league appearances for Sunderland and Hull City before joining Aston Villa during the Summer 2017 transfer window. He has won promotion to the Premier League from the Championship three times; twice with Hull City and once with Aston Villa. Elmohamady was part of the Egyptian squads that won the 2008 and 2010 Africa Cup of Nations.
ENPPI
Born in Basyoun, El Gharbia, Egypt, Elmohamady started his youth career at Ghazl El-Mahalla in 2003. He started to play for the first team in 2004 at the age of 17. Two years later, he joined ENPPI.
Sunderland
Elmohamady impressed Sunderland manager Steve Bruce while on trial with the Premier League side in August 2009. However, on 31 January 2010, Sunderland failed to sign him. Belgian side Club Brugge were also interested in the player and had, according to ENPPI, already made an offer. ENPPI accepted loan bids from both West Bromwich Albion and Sunderland for Elmohamady but while West Brom's offer was larger, Elmohamady chose to go to Sunderland, after being on trial.
Hull City
Elmohamady playing for Hull City in 2012
On 30 August 2012, Elmohamady moved to Hull City of the Championship on a season-long loan deal, favouring a move which would see him reunited with former Sunderland boss Steve Bruce. On 1 September, he made his debut for the club at the KC Stadium against Bolton Wanderers.
Aston Villa
On 19 July 2017, Elmohamady signed for Aston Villa for an undisclosed fee which would see him reunited with former Hull City boss Steve Bruce again.