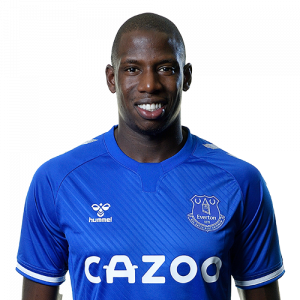 Abdoulaye Doucouré (born 1 January 1993) is a French professional footballer who plays as a central midfielder for Premier League club Everton.
Doucouré was born in Meulan-en-Yvelines, Yvelines, to Malian parents, his cousin Ladji Doucouré is a French track and field athlete.
On 8 September 2020, Premier League club Everton announced that they had signed Doucouré from Watford for an undisclosed fee believed to be in the region of £20m. He signed a three-year deal with a club option for a fourth season.
Doucouré made his debut on 13 September 2020 during Everton's first game of the 2020–21 season, away from home against Tottenham Hotspur, a game Everton went on to win 1–0 in which Doucoure made a crucial crunching tackle to stop Lucas Maura in his tracks.
Doucouré scored his maiden Everton goal with a powerful header in a 3–2 away win against Fulham on 22 November 2020 in a Premier League fixture. He scored again against Manchester United in a 3–3 draw on 6 February 2021 at Old Trafford when he tapped in from close range.
On 12 March 2021 Everton manager Carlo Ancelotti confirmed that Doucoure had suffered a fractured foot in training thus ruling him out for 8-10 weeks, despite this Ancelotti said he hoped Doucoure would return to the team before the end of the season.
Doucouré is a well-rounded midfielder. He has the tactical awareness and technique to play for a top club. Aside from his attacking abilities, Doucouré is also physically strong and is disciplined in his positioning when required. Everton manager Ancelotti believes that the skills that Doucouré has means he can play everywhere on the pitch. He can play number 10, in behind, in front of the defence, his work defensively is really good. Doucouré is also learning a lot tactically as well, he has a fantastic ability for the transition when the team catch the ball. In fact, he is fantastic box-to-box player.